Who is suitable for being a RE/MAX agent?
Are you a foreigner who has been living in Japan for a long time? Do you have a permanent resident visa or spouse visa? Have you ever wondered if you can build a different career in Japan rather than teaching English?
Are you a Japanese national who has always wanted to get into real estate? Or are you already a real estate agent but don't see your future in your current company? Are you tired of being an employee? Have you ever thought about starting your own business? Do you want to make use of your language skills?
If your answer to any of the questions above is "yes", you are looking at the right page and please keep reading.
We are looking for agents who have dreams. We all had dreams when we were kids. Most people were taught to study hard at school, go to university, graduate and get a good job because their parents were taught that way too. This employee mindset has been integrated deeply into our lives, so it's very difficult to change it. If a kid helps his mom wash the dishes, everyone will say he is a good kid. However, if a kid saves his pocket money, buys a dishwasher and rents it to his mom per hour, everyone will say he is a bad kid. If you think about it deeply, the kid does help his mom solve the problem – either with an employee mindset (wash the dishes by himself) or with an entrepreneurial mindset (buys a dishwasher and rents it to his mom). It's just that having an entrepreneurial mindset is sometimes considered to be a bad thing in our society. It really doesn't make any sense!
After we became adults, our dreams disappeared for some reason. Many people work as employees and live pay check to pay check. Our dreams have been covered by our monthly bills. Have you ever wondered if there are any solutions?
My story
I came to Osaka from Vancouver, Canada on a working holiday visa many years ago. Same as many other foreigners, I started my first job in Japan as an English teacher. I liked it at the beginning and enjoyed my long holidays very much. However, after a few years, I started to feel that my life was not going anywhere. There was an inner voice in me saying that I could probably do something else. Thanks to my employer at that time, I was lucky enough to get into the translation industry through her referral. I worked as an English teacher and a freelance translator at the same time. After a few years, the same inner voice told me maybe I should do something completely different. I asked one of my best friends in Canada what he thought I should do. He said, "You like meeting new people. You also like working outside. I guess you will be a good tour guide. Or maybe you'll be a good real estate agent, like me. Why don't you move back to Canada and work with me? I think you'll like it." Going back to Canada was not an option for me, but I took his advice and found a job in a real estate company in Osaka very soon. The starting salary was much lower than an average English teacher, so I felt I was moving backward at the beginning. If it was just for the money, I would rather teach English a few hours a day and make a better salary. However, I trusted my friend and thought it was just a means to an end. My goal was to learn everything necessary to be a professional real estate agent, get a real estate license and then become independent. I worked extremely hard for 3 years and 3 months although I understood there was no future in my company way before that. I clearly remember I passed the real estate license test on Nov 29, 2017 and handed in my resignation letter the next morning.
I tried to find another job in the industry, but realized that there weren't so many good jobs in the market. Even big companies paid a low salary and expected you to work 6 days a week. While I was browsing around online, I found RE/MAX JAPAN. When I saw the RE/MAX balloon, I thought, "It looks familiar! I've seen this balloon in front of apartments and houses in Canada many times!" I asked the same friend about RE/MAX, and he said, "Oh, it's a world famous real estate franchise. They are everywhere in the US and Canada. I didn't know they were in Japan though. If you want to be successful, you should contact them and find out more details." I took his advice again, and that turned out to be a life-changing decision!
I started being a RE/MAX agent at an office in Namba on Jan 1, 2018. I thought I wouldn't have so many clients at the beginning, but it turned out to be the opposite. All my friends and acquaintances were so supportive that I got my first client very soon. Then more and more clients came, and I doubled my income in just a few months. What I enjoyed the most was the freedom that came with it, and I no longer had to participate in useless meetings or listen to anyone's instructions. I went to work whenever I wanted to, and I also took a holiday whenever I wanted to. That's what life was supposed to be!
After enjoying my new lifestyle for a few months, I decided to take on a new challenge – opening my own RE/MAX office and becoming a broker owner. It was a big decision, but I just couldn't wait to share my happiness and satisfaction with other agents. Becoming a RE/MAX agent changed my life completely, and I wanted my future agents to enjoy their life as well. RE/MAX WINNERS was founded on Jun 1, 2018. Thanks to the support from RE/MAX KANSAI OSAKA, all the steps from renting an office to getting a real estate company license, went smoothly. We were ready to serve clients at the beginning of Aug. It's been 3 years already, and we will continue to grow.
Why should you build your career at RE/MAX WINNERS?
Maybe you have heard of one of the best-selling books called Rich Dad Poor Dad written by Robert Kiyosaki. Or maybe you have already read it. For those who have never heard of it, the most important concept is called the Cash Flow Quadrant or ESBI Model.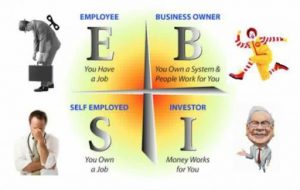 If you are working, you must be in one of the 4 categories:
E: Employees (e.g. English teachers, office workers, public servants)
S: Self-employed (e.g. Doctors, lawyers, soccer players)
B: Business owners (e.g. CEOs, McDonald's franchisees)
I: Investors (e.g. Real estate owners, shareholders)
I've experienced all 4 categories in Japan. When I was an English teacher, I was in E. When I was a freelance translator, I was in S. When I joined RE/MAX, I was in B. When I bought my first investment property, I was in I.
Let's take a look at each category:
Employees:
Tagline: "I need a secure job with good benefits."
Core value: Security
Characteristics: Many people live from pay check to pay check. Job security is more important than financial freedom.
Pros: Stable income, fixed work hours, look "normal" because most of your friends are in this category
Cons: No freedom, extremely difficult to get rich, simply selling your time to the company. Even if you work very hard, your income won't change much.
Self-employed:
Tagline: "If you want to do it right, you have to do it by yourself."
Core value: Perfectionism
Characteristics: They trade their time for money, so time is money for them.
Pros: If you are very good at what you are doing, there is a chance to get rich. The harder you work, the more money you make.
Cons: Not much freedom. If you stop working, your income stops coming right away.
Business owners:
Tagline: "I want to hire the smartest people to work in my company."
Core value: Make people work for them
Characteristics: They don't have to trade their time for money because the system works for them.
Pros: You own a system and people work for you. If your system is good enough, you can be away for a long time and your company will still be making money.
Cons: You need to work very hard at the beginning until your system is in auto pilot.
Investors:
Tagline: "I'm looking for another good investment."
Core value: Make their money work for them
Characteristics: There is no such thing as going to work. You can "work" anytime anywhere.
Pros: You have plenty of freedom. You can be financially independent.
Cons: You need to study about investments. One single mistake might wipe out half of your wealth.
In most countries including Japan, 90% of the people are on the left side (E or S) and 10% of them are on the right side (B or I). However, 10% of the money is on the left side and 90% of the money is on the right side. Most people start from "E" in the society. When they become better, they move to "S" and brush up their skills and knowledge. If they want to be financially independent, they move to the right side of the quadrant. Being a RE/MAX agent will help you move from "E" to "S" and then to "B" and even "I". We are like the GPS of your car and will take you to your destination. With RE/MAX WINNERS, you are going into business for yourself, but not by yourself.
Taxes & Expenses
Why is it a good idea to move from "E" to "B"? Let's say you are in "E".
¥5,000,000 – deductions (income tax, resident tax & social insurance) = ¥3,800,000
Living expenses (apartment rent, utilities, food, shopping, hanging out with friends, going on trips): 3,000,000 yen
Savings: 800,000 yen
You're already pretty good at managing your money if you can invest 800,000 yen per year. However, it's difficult to generate much profit when your investment is so low.
In contrast, let's say you are in "B" at RE/MAX WINNERS.
¥5,000,000 – expenses = actual earning
Expenses include but not limited to your car, gas, parking fees, phone bills, insurance, meals with clients, coffee, event participation such as RE/MAX R4 in Las Vegas, property viewing tours in Hawaii, etc.
In other words, if you are in "E", you have no control over your deductions. However, if you are in "B", you can discuss with our tax accountant to find out many legal ways for tax reduction.
Our interviews
We interview a lot of applicants every year, and most of them are interested in being entrepreneurs. Our interviews are very different from those in other companies because we are not looking for employees. Instead, we are looking for business partners. Some interviewees tell us, "You've changed my life!", "I have never thought about running a business that way. You guys are awesome!" and "If I had known about this before, my life would have been different." If you seriously want to change your life, please don't hesitate to contact us to schedule an interview. Some people are very good at making excuses. In their 20s, they say, "I'm too young, so I'm not ready now." In their 30s, they say, "I've just had my first kid, so I'm not ready now." In their 40s, they say, "I'm spending a lot of money on my kid's education, so I'm not ready now." In their 50s, they say, "I'm too old, so I'm not ready now." Thinking is not going to change your life. If you want a change, start acting now. There are always thousands of reasons not to do something, but you only need to find ONE good reason to do it. Click on the "Contact" button and send us an email now!

RE/MAX WINNERS CEO
Holly Yu